The Original "Level. Plumb. Square. Repeat." T-shirt.
You've seen it around.  You've wanted one.  Now you can have it.
Your donation gets you good karma and (more importantly) an awesome t-shirt.
The Standard Fundraiser Version ($25)
Level Plumb Square Repeat (Basic) Tee Shirt
by
shopvella
Look at more Carpenter T-Shirts at
zazzle
The "Baller" Fundraiser Version ($40) on American Apparel.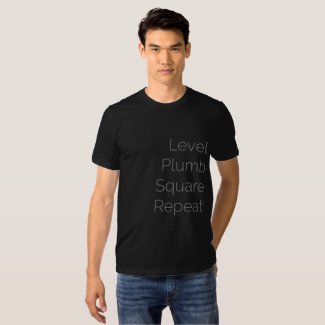 Level Plumb Square Repeat T Shirt
by
shopvella
Shop for
custom t shirts
online at Zazzle
Note: This is the original design. If you see (or plan to make) copies, remember that karma works both ways.
Please support us. We are just trying to make this a nicer place to live. 🙂